The civil campaign "European Belarus" congratulates Alexander Otroshchenkov on his thirtieth birthday.
On 22 March the press secretary of "European Belarus", Alexander Otroshchenkov, is 30 years of age.
Sasha is spending his birthday in the KGB prison. On 2 March the court of the Frunzenskaya district of Minsk sentenced Alexander Otroshchenkov – the press secretary of the presidential candidate in the 2010 elections, Andrei Sannikov – to four years of imprisonment in a maximum security colony for allegedly taking part in a mass protest on 19 December.
"Alexander Otroshchenkov carried out his professional and above all civic duty on the Square. He could not do otherwise; he had to be in the forefront, particularly of significant events for the country."
We wish to express our gratitude to Sasha for his work and love of the motherland, for his courage and patience.
Sasha, we believe that very soon we will meet you in liberty!
You are one of those people of whom we are proud, and of whom a free and European Belarus will be proud.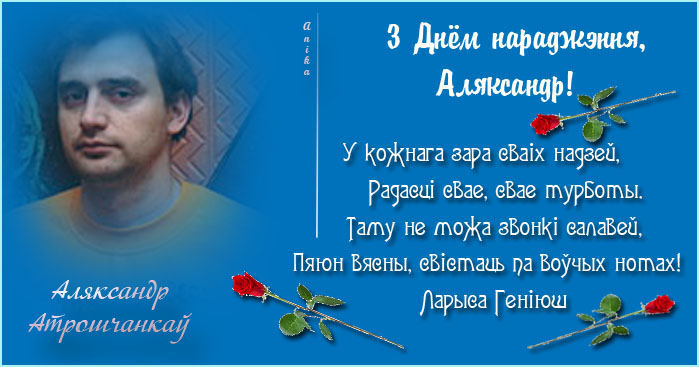 Darya Korsak, the wife of the political prisoner, asks all caring Belarusians to congratulate Alexander Otroshchenkov by sending him cards and letters.
"It will be very pleasant for him. Even if he won't be able to receive part of them, the KGB administration will understand that people are not indifferent to his fate. "
According to her, the KGB staff are trying to make political prisoners, including Alexander Otroshchenkov, feel abandoned. "I understand, importantly, what they do – they tell and suggest to the prisoners that they are not interesting to anyone, that nobody needs them, that no-one is concerned about them; and they try to evoke a feeling of guilt," Darya Korsak told the reporters of "Belsat".
The wife of the political prisoner says that Alexander Otroshchenkov did not know that a large number lot of Belarusian supporters was trying to get to his trial. "I convinced him that solidarity is a great thing, even if he does not receive all the letters," added Darya Korsak.
The address for postcards and letters is:
220050, Republic of Belarus, Minsk, Main Post Office, PO Box 8, Alexander Otroshchenkov.